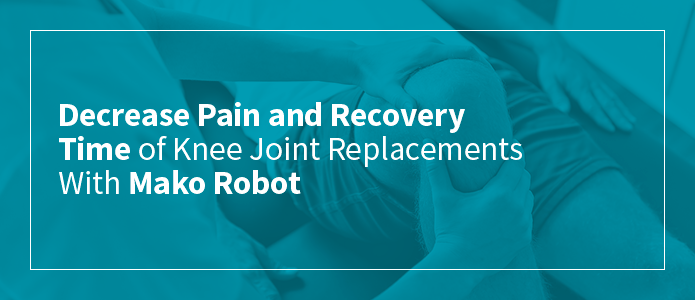 Depending on where your arthritis is affecting your knee, a surgeon may recommend either a partial knee replacement or a total knee replacement. With both procedures, the surgeon replaces the damaged or diseased joint with an artificial implant to restore function and relieve pain.
Stryker, a medical technology company based out of Kalamazoo, Michigan, has developed technology called the Mako robot, which assists surgeons in performing knee replacements. It can help decrease a patient's pain, recovery time, soft tissue damage and bone damage resulting from the procedure.
The Mako robot application got the approval of the Food and Drug Administration in 2015. However, Stryker officially announced the launch on the first day of the 2017 annual American Academy of Orthopedics Surgeons meeting in San Diego. Today, the Orthopedic Institute of Pennsylvania is using this exciting robotic-arm assisted technology for knee replacement surgeries.
About Knee Replacement
Knee replacement surgeries originated in 1968. When walking assistants and medications no longer provide relief or help to restore mobility and function, you might want to consider a knee replacement surgery. Depending on how severe your arthritis is, your surgeon may recommend partial or total knee surgery:
Partial knee replacements are surgical procedures that help ease arthritis in one or more of the three knee compartments: the medial (inside) component, the lateral (outside) component or patellofemoral (top) component. In this procedure, the surgeon only replaces the damaged knee joint area, helping to reduce trauma to healthy tissue and bone.
Total knee replacements are surgical procedures where the surgeon replaces the entire injured or diseased knee.
About Mako Robot System Features
Mako robot technology offers an individualized surgical plan based on your own personal anatomy. In both partial and total knee replacement procedures, the orthopedic surgeon guides the Mako robotic arm to eliminate diseased cartilage and bone. The Mako robot system:
Uses full flexion and extension, enabling the pre-resection capture of kinematic tracking specific to the patient.
Plans implant size, alignment and orientation accurately, using CT-derived 3D modeling.
Promotes bone-sparing and minimal tissue trauma.
Provides a faster recovery, due to its minimally invasive procedure.
Offers proper soft tissue balance and correct knee kinematics from real-time intra-operative adjustments.
The Mako robot is the most consistently accurate joint replacement technology available worldwide today. It allows surgeons to optimize knee implant sizing, ligament balance, and implant longevity and function. It's an innovative procedure option for individuals who live with mid-stage osteoarthritis in the patellofemoral, medial or lateral knee compartments.
Overview of Mako Total Knee Replacement Procedure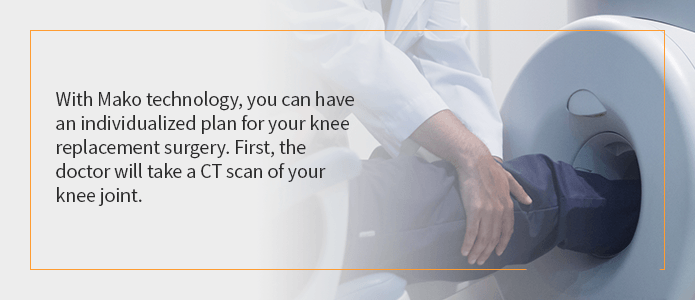 With Mako technology, you can have an individualized plan for your knee replacement surgery. First, the doctor will take a CT scan of your knee joint. They'll upload the CT scan into the Mako system software, which will create a 3D knee model. The doctor then uses the model to pre-plan and help your surgeon perform your knee replacement.
The surgeon will follow your individualized plan while they prepare the bone for the knee implant. The surgeon will then guide the robot arm to eliminate any diseased cartilage and bone. The Mako technology helps the surgeon stay within the boundaries of the predefined area, so no other bone or tissue is affected.
Following your surgery, the surgeons, physical therapists, doctors and nurses will help you set goals so you can get back to regular movement in your knee and surrounding areas. They'll monitor your condition and recovery progress closely. Your surgeon might take an x-ray of your new knee replacement to review it with you.
Benefits of Knee Joint Replacements With Mako Robot
Knee replacements help people get back to their lives. They can improve a patient's mobility, pain levels and quality of life. Moreover, knee replacements using the Mako robot have several additional advantages. Besides offering increased precision, some benefits of Mako knee replacements include:
Reduced Soft Tissue and Bone Damage
One study, published in The Journal of Arthroplasty, compared the results of 30 consecutive manual total knee arthroplasty surgeries, or TKAs, and 30 consecutive Mako TKA surgeries — all performed by the same surgeon. The results showed that the patients who had the Mako-assisted procedures had less bone and periarticular soft tissue injury than the patients who had the manual TKA surgeries.
Decreased Pain
It's common for individuals to try conservative treatments and medication to treat their knee pain. However, if you've tried these approaches and aren't experiencing adequate relief, you might be an ideal candidate for Mako knee replacement, which could offer you relief.
If you're experiencing start-up knee stiffness and pain when you move from a sitting position, a Mako surgery might be able to help. Joint degeneration and arthritis pain can:
Come and go.
Be constant.
Occur after a rest period.
Occur with movement.
Be located in many parts of your body.
Be located in one particular part of your body.
In one clinical study, those who underwent Mako partial knee replacement felt less pain in their 90-day postoperative period. The study's results showed those who underwent robotic arm-assisted surgery reported substantially lower levels of postoperative pain. There was also a 55.4% lower median pain score in the robotic-arm assist group, compared to manual patients from the first day of the study to the eighth week.
Shorter Recovery Time
The Mako surgery's minimally invasive nature allows you to:
Walk shortly after.
Return to regular day-to-day activities sooner.
Drive a vehicle within your first few weeks.
Mako helps with recovery from knee joint replacement and spares your healthy tissue and natural bone. It helps to preserve as much of your knee as possible, unlike more invasive surgeries. The robotic arm helps to optimally position the knee implant, making your knee feel more natural after the procedure. Other types of total knee replacement procedures require a longer hospital stay and recovery, but the robotic arm used in a Mako surgery offers pinpoint accuracy, which promotes a shorter recovery time.
Contact the Orthopedic Institute of Pennsylvania for Your Mako Knee Joint Replacement Surgery
The Orthopedic Institute of Pennsylvaniapledges to provide compassionate and caring service to make sure each and every patient has a positive experience. We're dedicated to placing your needs first. We're committed to meeting and going beyond each patient's expectations to offer outstanding and exceptional care.
Contact our office today to make an appointment for your Mako knee joint replacement consultation.