OIP has decided to recognize some of our longest working employees. Without these incredible employees we would not be who we are today.
This week we would like to recognize Cherie Bartles for her amazing contributions to OIP! She currently serves as Patient Support Team Supervisor for OIP. Here she is pictured with Dr. Richard Patterson and his wife, Mary Eleanor. We caught up with Cherie and were able to conduct a Q&A session with her.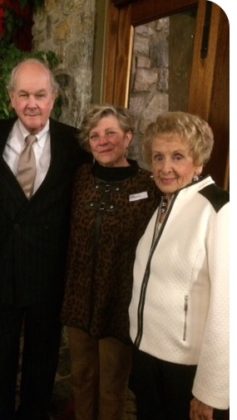 Q&A with Cherie:
What has been the most rewarding part of working at OIP?
"Helping patients during my years as a medical assistant with Dr. Richard Patterson and Dr. Alexander Kalenak."
What was it like working at OIP 40+ years ago?
"I felt really young! LOL. I liked the small, more personal practice. At the time I started, it was much more relaxed and less stressful."
What have been your favorite changes at OIP in the last 40+ years?
"Change is good and we need this as we grow, both personally and professionally. I can't say I have favorite changes. I just have watched this practice grow and grow and I am proud to be a part of that process."
What makes for a great day at work?
"In my role as a supervisor on the administrative team, I have to say it makes me happy to be able to make a difference and make my employees happy, as well, if at all possible."
What is your favorite vacation spot? Why?
"St John, VI because it is so peaceful and beautiful."
Who has been the most influential person in your life?
"In my personal life, my mother. I miss her so much, especially when I need someone to help me sort things out. In my professional life, Dr. Richard Patterson pictured here with his wife, Mary Eleanor and, of course, me! They are both very dear friends of mine to this day."