For the month of April we have decided to recognize our longest working employees here at OIP. Without these incredible employees we would not be who we are today.
This week we would like to recognize Kim Klouser for her amazing contributions to OIP! She is a Medical Assistant and Personal Assistant to Dr. Goltz. Here she is pictured with her photogenic dogs, Oakley and Willow. We caught up with Kim and were able to conduct a Q&A session with her.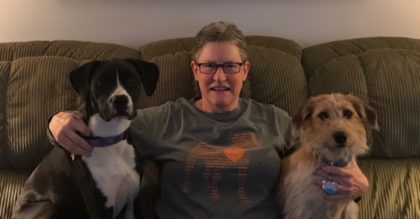 Q&A with Kim:
What has been the most rewarding part of working at OIP?
"There have been many good things about working here. I have created lifelong friendships, grown in my profession, and have learned so much from the physicians. But establishing relationships with patients and seeing them improve is really rewarding."
What was it like working at OIP 30+ years ago?
"It was like the dark ages. All of our work was done on paper. We wrote appointments in appointment books. We had to take verbal reports over the phone since there was no fax machines. There were no digital x-rays, so we all learned how to develop x-rays in the dark room. We were also responsible for washing and folding all of our patient gowns.
What have been your favorite changes at OIP in the last 30+ years?
"FAX MACHINES! The advancement in technology. We are improving our ability to diagnose and treat orthopedic problems. Surgical procedures are so much better. We are learning to do things better."
What makes for a great day at work?
"Working with my co-workers and learning at least one thing every day."
What is your favorite vacation spot? Why?
"Cape Cod. It has Miles of beaches, antiques, art, bike riding, and LOBSTER!"
Who has been the most influential person in your life?
"My best friend in high school. She was the *ALL AMERICAN GIRL* next door. She was genuine and treated everyone as she wanted to be treated. I learned that everyone has value."