Orthopedic Institute of Pennsylvania Opens New Facility in Carlisle
New 30,000 square-foot facility increases orthopedic access to Carlisle and surrounding communities
CARLISLE, PA (June 9, 2021) – The Orthopedic Institute of Pennsylvania (OIP) is pleased to announce the opening of its new Carlisle facility, offering neighbors in and around the area with increased access to orthopedic specialists and services, including general orthopedic care, pain management, podiatry, rheumatology, MRI and physical therapy.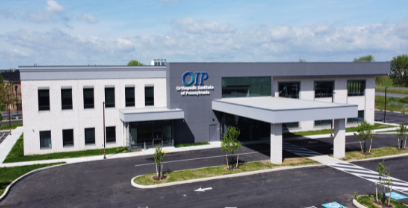 This newly constructed, 30,000 square-foot facility is located at 250 Alexander Spring Road – directly across the street from the practice's previous Carlisle office. Currently, 11 OIP physicians are available for appointments in Carlisle. 
Patients from the Carlisle area, and surrounding communities of Newville, Shippensburg, Mechanicsburg, Boiling Springs, Mount Holly Springs, Chambersburg, Gardners, Shermans Dale, Dillsburg and more, can find expert orthopedic care minutes from home.
"We broke ground on the new Carlisle facility roughly two years ago, and we are thrilled to begin seeing patients there this month," says Will Thompson, OIP's CEO. "This modern, expansive office offers patients in and around the growing Carlisle region a convenient orthopedic solution, close to home – and access to a broader range of specialists and services."
The following physicians are available for appointments in Carlisle: 
The practice also has plans to open another Orthopedic Injury Clinic at this site, offering extended walk-in hours seven days per week. OIP Ortho Injury Clinics provide access to specialized care during times which can be especially helpful to those with busy weekday schedules or to treat injuries sustained during a weekend that used to require a trip to the emergency room. Patients can get treated readily by an orthopedic provider in an OIP facility instead of waiting for hours in an emergency room.
OIP has seven locations throughout the central Pennsylvania area, including Camp Hill, Carlisle, Harrisburg, Hershey, Newport and Millersburg. To schedule an appointment at any OIP office, please call (717) 761-5530 or visit www.OIP.com. For 24/7 urgent orthopedic advice and care, call (855) OUCH-OIP.
### 
The Orthopedic Institute of Pennsylvania (OIP) is a physician-owned practice, which means decisions about care are always made in the exam room between patient and provider – not influenced by decisions in a boardroom. In OIP's 50 years of service to the central Pennsylvania community, the group's primary business objective has been and continues to be exceptional patient care. To learn more, visit www.OIP.com.