Beginning November 15, Orthopedic Institute of Pennsylvania will launch its annual Reindeer Games, an effort to both celebrate its associates AND give back to the central PA community. 
This year, the group will partner with CocoaPacks Toy Drive and the United Methodist Home for Children. OIP associates will participate in several challenges to raise important donations for these organizations, BUT patients and community members are invited to drop off donations, too! Learn more about how you can help us impact the lives of local children in need.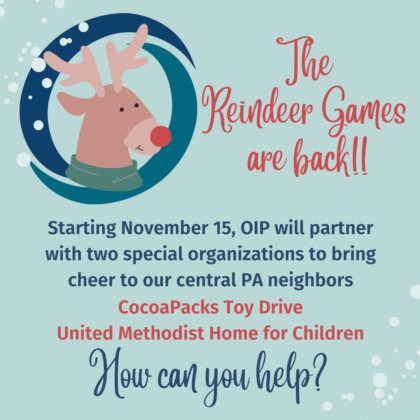 CocoaPacks Toy Drive, November 15 – December 3
CocoaPacks provides supplemental food and other support to local children in need to enhance overall wellness. The group's vision is a world where all children have what they need to succeed. Learn more about them. At the start of the school year, there were 1,400-plus school-age children registered and receiving support from this program. 
OIP associates (and patients!) are invited to donate any of the following items at any OIP location. Items needed, include:
New, unwrapped toys (Consider items from the group's

Amazon Wish List

)

Holiday gift wrap, gift bags, tissue paper, bows and tape
United Methodist Home for Children, November 29 – December 17
The United Methodist Home for Children (UMHC) was founded in 1917 and today its Mechanicsburg campus serves approximately 35 children between the ages of 12-20 with safe, residential care and supports the broader community with services for youth and their families. Learn more about them.
OIP associates (and patients!) are invited to donate a $10 gift card to any of our OIP locations  from any of the following: 
local restaurants

Walmart, Target, Dick's Sporting Goods, Dollar General and Staples

grocery and convenient stores like Giant, Weis, Rite Aid and CVS

Visa and Mastercard
We are privileged to partner with these two organizations and thank all of our associates and our patients for helping us brighten the holiday season for these special kids and their families!