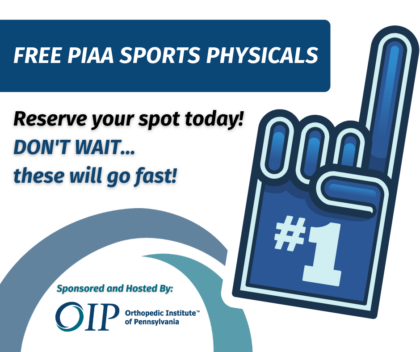 Free PIAA Sports Physicals from the trusted team at OIP 
These Pennsylvania Interscholastic Athletic Association (PIAA) sports physicals are free for athletes in middle and high school who are participating in a PIAA sport.
THURSDAY, JULY 22, 6-8PM, 

Camp Hill, 3399 Trindle Road

WEDNESDAY, JULY 28, 6-8PM, 

Carlisle, 250 Alexander Spring Road

WEDNESDAY, AUGUST 4, 6-8PM, 

Harrisburg, 450 Powers Avenue

THURSDAY, AUGUST 12, 6-8PM, 

Camp Hill, 3399 Trindle Road
Athletes MUST bring completed PIAA forms to appointment. You can download them here. 

A parent or guardian MUST accompany students under 18 years old.

All participants MUST wear face masks.
Questions? Call (717) 836-1512.