For the month of April we have decided to recognize our longest working employees here at OIP. Without these incredible employees we would not be who we are today.
This week we would like to recognize Leigh Braden for her amazing contributions to OIP! She currently serves as a Billing Specialist for OIP. Here she is pictured with her husband. They will be celebrating their 40th Wedding Anniversary next week! We caught up with Leigh and were able to conduct a Q&A session with her.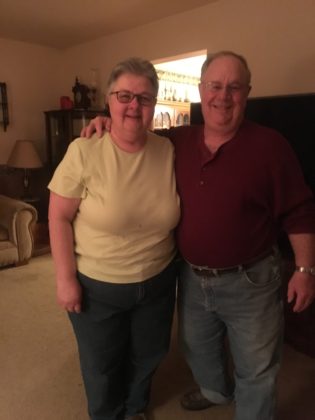 Q&A with Leigh:
What has been the most rewarding part of working at OIP?
"I feel like I have had a positive influence with respect to our patients. In my position as greeter, the patients appreciated that I recognized them and called them by name. Also, I have learned so much during my years working here, about orthopedics and about life."
What was it like working at OIP 25 years ago?
"Twenty-five years ago we were two separate groups, until our merger in 1995. Obviously, we had fewer patients at that time. We did not have computerized scheduling, but actually handwrote appointments in a book; we had to carry the book to office hours and pass it back and forth among those that were scheduling appointments. The charts were not electronic either. It was a HUGE problem if we could not find the hard chart, and considerable time was spent pulling and filing charts."
What have been your favorite changes at OIP in the last 25 years?
"My favorite change at OIP has been the advances in technology."
What makes for a great day at work?
"A great day at work leaves me with a feeling of accomplishment at doing a good job. I like knowing that I made a difference in the lives of our patients and my co-workers."
What is your favorite vacation spot? Why?
"My favorite vacation spot is our cabin in Clearfield County. My time is my own when we are there (although I still end up cooking a lot!), but there are no deadlines or feeling rushed."
Who has been the most influential person in your life?
"The most influential person in my life was my mom. She died 26 years ago but the example she set as I was growing up has made me the person I am."