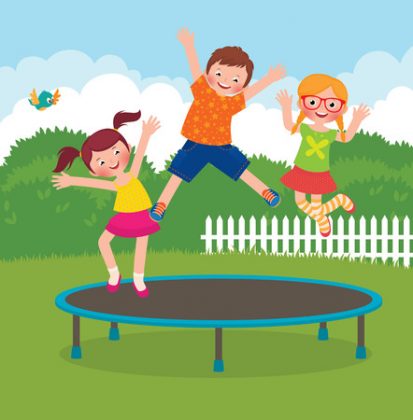 Trampoline injuries are becoming more common as these pieces of playground equipment make their way into backyards across the country. Many children and adults are being invited to trampoline parks for birthday parties. They can be a lot of fun – trust us, we know – we use them, too! However, they can also be dangerous if not properly managed. More than 75% of injuries occur due to collisions between jumpers, and most injuries are found in those who are five to 14 years old. Jumpers can also fall onto hardware components or off the mat onto the ground. While arm and leg injuries are usually the problem, head and neck injuries do happen and can be life-threatening. The American Academy of Orthopaedic Surgeons provides this information and some tips to stay safe:


• Regularly inspect the unit and make repairs promptly.


• Make sure there is adult supervision/spotting taking place during use.


• Children under six years of age should not use trampolines.


• Allow only one jumper at a time.


• Do not allow high-risk behavior such as flips.


• Take ladders away when the trampoline is not in use; this prevents youngsters from climbing in unsupervised.


• Bounce houses, while different in structure, are similar in risks and recommendations.


Have fun and be safe!


-Your friends at OIP
AAOS. "Trampoline Injury Prevention." OrthoInfo. American Academy of Orthopaedic Surgeons. 1995-2017. Web. July 2017.