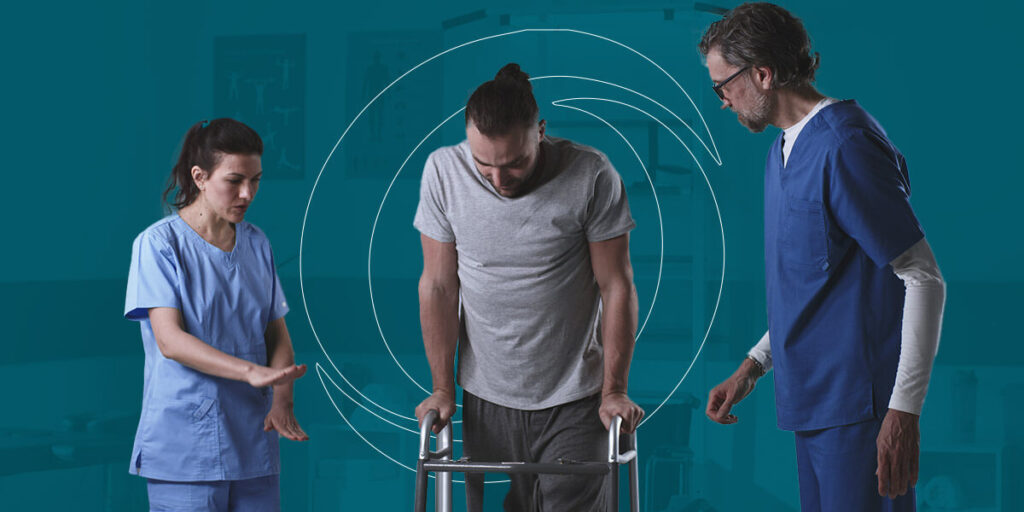 Physical therapy benefits people of all ages who experience medical conditions, injuries or illnesses that limit their motion and daily function. Professionals customize a person's physical therapy program to help them return to their prior level of functioning. They might also encourage lifestyle changes that prevent further injury and strengthen the patient's overall health and well-being.
Learn why physical therapy is important, its various benefits and how physical therapists identify, diagnose and treat movement problems below.
Who Can Benefit From Physical Therapy?
Anyone can benefit from physical therapy — even those who have specific conditions but are currently pain-free. Physical therapists can identify and address potential problems that could lead to pain or injury in the future. They can provide supplementary treatment for various medical conditions, depending on their specialty.
For example, physical therapy can benefit those experiencing the following injuries or types of pain:
Arthritis
Back pain and strains
Herniated disc
Knee pain
Rotator cuff tears
Sciatica
Patients might go to physical therapists for specific sub-specialties, such as pediatrics, sports, geriatrics, cardiac, neurology or respiratory physical therapy. For instance, a pediatric physical therapist specializes in helping children with particular injuries or conditions like inherited movement disorders or bone and muscle issues. A cardiac physical therapist provides rehabilitative exercise counseling for those recovering from heart failure, a heart attack or heart surgery.
How Physical Therapists Identify, Diagnose and Treat Movement Problems
Your primary care doctor may refer you to physical therapy to help manage an issue. Physical therapists can then identify, diagnose and treat the pain to help you maintain or restore your range of motion: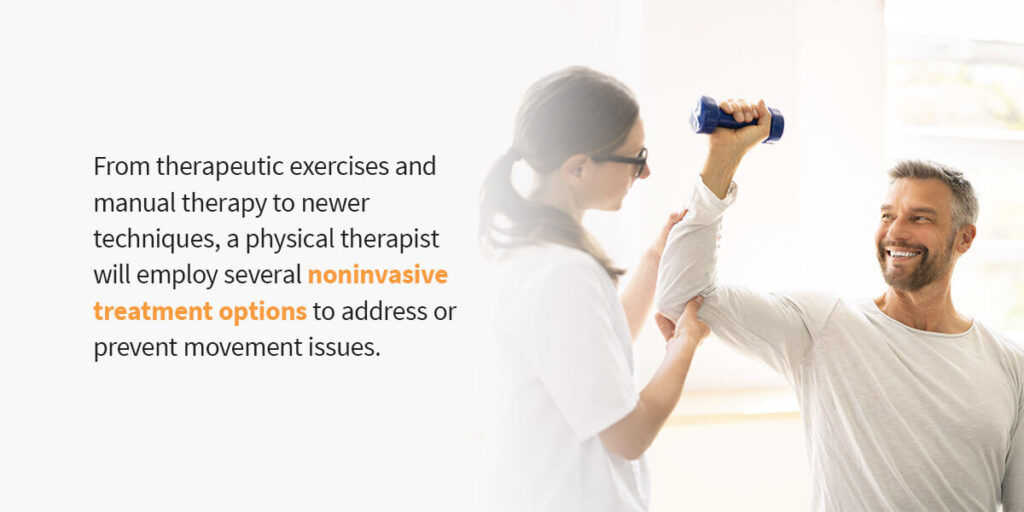 Discussing your symptoms: Physical therapists will first speak with you about your pain or injury. They might discuss your habits or events that may have led to your symptoms. The conversation can help them determine how you may have gotten where you are physically.
Physical assessment: Next, you'll undergo several functional tests to identify the source of your pain or injury. These tests measure your strength and range of motion, either throughout your entire body or the specific muscles and joints causing the problem.
Diagnosis: Physical therapists then compare your conversation and physical assessment to determine the cause of your issues.
Treatment plan: Finally, physical therapists explain your diagnosis and customize a treatment plan to help you manage the problem. From therapeutic exercises and manual therapy to newer techniques, a physical therapist will employ several noninvasive treatment options to address or prevent movement issues.
After your initial evaluation, treatment might include stretches or exercises to improve your strength and mobility while helping you stay pain-free. You'll also be encouraged to continue rehabilitation with at-home exercises. Your physical therapists will assess your condition throughout your sessions to ensure your progress.
Physical Therapy Benefits
So why is physical therapy important? People use physical therapy for various reasons. It may be time to consider physical therapy when you have persistent joint achiness or muscle burning that can't be relieved with at-home remedies.
Physical therapy can help:
Reduce or eliminate pain: Physical therapists can help relieve pain caused by injuries or illnesses. Several exercises or manual therapy techniques like joint and tissue mobilization or ultrasound and taping methods can reduce pain, restore muscle and joint function and prevent the pain from returning.
Avoid surgery: If physical therapy can help you eliminate pain or recover from an injury, you might not need surgery. Even when surgery is required, physical therapy can help you improve your strength beforehand so you can recover faster.
Improve strength and mobility: No matter your age, if you have issues standing, walking or moving, physical therapy can help. Strengthening and stretching exercises can help restore your movement. You might also use assistive devices like canes or crutches in treatment. Since therapists customize your care plan, they can adapt any important activities in treatment to ensure your maximum performance and safety.
Recover from a stroke: It's common to lose some degree of movement and function after a stroke. Physical therapy can help you improve your gait and balance while strengthening the weakened parts of your body. Physical therapists can also improve stroke patients' ability to move around the home so they can be more independent and require less assistance for activities of daily living.
Recover from or prevent a sports injury: Physical therapists understand sports can increase your risk of specific injuries, like stress fractures for runners. They'll design recovery or prevention exercise plans to ensure a safe return to your sport or to help prevent injuries while you're playing.
Improve your balance and prevent falls: When you begin physical therapy, therapists will evaluate your risk of falling. They'll help improve coordination with exercises or assistive devices to promote safer walking. If a vestibular issue causes a balance problem, therapists can employ specific methods to restore vestibular functioning and reduce dizziness.
Manage age-related issues: Individuals may develop specific bone or muscle conditions like arthritis or osteoporosis as they age. Physical therapists can help patients recover from joint replacement and help them manage their conditions.
How to Get Care for Your Physical Therapy Needs
Our priority at the Orthopedic Institute of Pennsylvania is providing high-quality care and service to address your physical therapy needs. Our friendly, highly skilled team works with you to achieve a higher success rate and improve your overall quality of life.
At our physical therapy center, you can expect specialized services and treatment in areas like:
Orthopedics: Orthopedics address musculoskeletal injuries and impairments.
Sports medicine: This specialty focuses on treating and preventing sports-related injuries.
Hand therapy: Despite the name, hand therapy focuses on the hands, arms, wrists, elbows and shoulders.
Work-related injuries: This treatment aims to help patients safely return to work.
We design our individualized treatment plans to fit your condition and lifestyle. We use expert hands-on manual techniques, such as joint and soft tissue mobilization. With these techniques, we can help you improve function, increase your range of motion and reduce pain, swelling and inflammation so you can get back to the activities you love the most.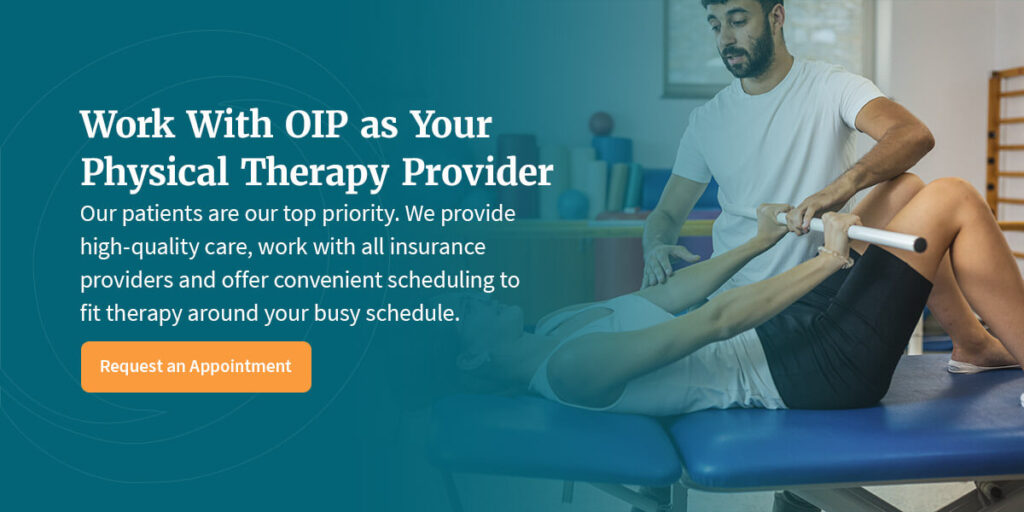 Work With OIP as Your Physical Therapy Provider
You might need physical therapy for several reasons, from illness to injury. For your physical therapy needs, turn to OIP. By providing early intervention and 24-hour access to care, our customized treatment plans can help you restore your mobility as quickly as possible.
Our patients are our top priority. We provide high-quality care, work with all insurance providers and offer convenient scheduling to fit therapy around your busy schedule.
Use our online appointment request form to make an appointment today.