The Orthopedic Institute of Pennsylvania (OIP) is pleased to announce the opening of its new Hershey facility, offering neighbors in and around the area increased access to orthopedic specialists and services, including general orthopedic care, pain management, podiatry, rheumatology and physical therapy. 
OIP has had a presence in Hershey for more than 20 years. This newly renovated, 28,000 square-foot facility, located at 112 Sipe Avenue in Hummelstown, will replace the group's previous location at 32 Northeast Drive.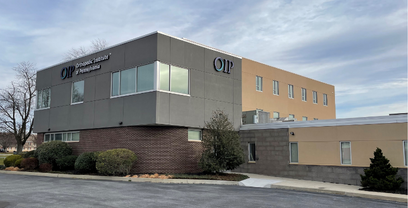 Formerly home to the American Cancer Society, OIP purchased the Sipe Avenue property in December 2020 and has spent the last year making extensive renovations to accommodate a full-range of orthopedic services, including on-site physical therapy.
"We are thrilled to expand our presence in the growing Hershey region," says Will Thompson, OIP's CEO. "This highly visible office will provide patients in and around the region a convenient orthopedic solution, close to home – and access to a broader range of specialists and services."
The group officially moved into the new location this month. Currently, six OIP physicians are available for appointments in Hershey with three more expected to join the office this Spring. 
The following physicians are currently available for appointments in Hershey: 
Patients from the Hershey area, and surrounding communities of Palmyra, Hummelstown, Lebanon, Middletown, Annville, Elizabethtown, Mechanicsburg and more, can find expert orthopedic care minutes from home.
OIP has eight locations throughout the central Pennsylvania area, including Camp Hill, Carlisle, Harrisburg, Hershey, Newport and Millersburg. To schedule an appointment at any OIP office, please call (717) 761-5530 or visit www.OIP.com. For 24/7 urgent orthopedic advice and care, call (855) OUCH-OIP.